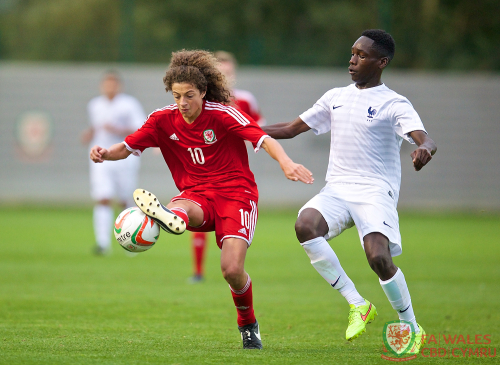 Young Guns by John Jones.

This week a look at some of the younger players, those from the '97 birth year and later.

Ethan Ampadu (Exeter City)
Ethan had already warranted some words in this section on the basis of performing very well as the captain of last season's Wales schoolboy U-16 team and then being involved in some of the Exeter first team pre-season matches. The accolades then received when making his competitive first team debut more than a month prior to his 16th birthday leaves me basically with no need to present an introduction to most Wales fans. For one so young to produce an apparently mature display as the lynchpin of a defence that kept a clean sheet for 120 minutes against opposition that will be 2 leagues above them during the season and providing a shock EFL Cup win for the club, certainly seems to bode well for the future.

Cian Harries and George Thomas (Coventry City)
Having made his debut in the last game of the 2015/16 season, Cian has given every indication that he has no intention of relinquishing his first team place with very competent performances in the club's first 4 games of the season. George has been involved in the Coventry first team from a very young age, having made the occasional appearance over the last 2 seasons as well as being out on loan in the Football League. Though highly regarded and an adept scorer at all levels, he is still developing the consistency needed to secure a long run of first team games and hopefully this will come to fruition this season.

Ryan Leak (Wolverhampton Wanderers)
Ryan was given some game time during Wolves' first team pre-season preparation, an indication that he is making excellent progress after the end of his time with the youth team last season. His immediate future will be linked with the U-23 team and this should provide an avenue for him to gain experience, especially as there will be some EFL Trophy games to be contested by the team.

Regan Poole (Manchester United)
It does not seem that Regan can anticipate first team involvement in the near term as the changes at the club have produced the expected prioritizing of reliance on experience in the immediate plans. As he is only a very few months past his 18th birthday, time is certainly on his side for the moment. Added to this is the encouraging sign that he is already firmly entrenched in the centre back spot for the U-23 team and as such one can guess that there must be a very high regard at the club for a fruitful future for Regan. It will be interesting to see if there may be an avenue for a chance to gain some experience in a first team game considered a slightly lesser priority as the season progresses.

Tyler Roberts (Oxford United – on loan from West Bromwich Albion)
In what is a very unusual practice for a player of his age, Tyler has been loaned out to League 1 Oxford in order to continue his development. He has appeared in all 4 of their matches, but each time as substitute, probably a wise move in order for him to get acclimatized to the physicality as well as hustle and bustle of football at that level. It is assumed that in order for all parties to get maximum benefit from the agreement that Tyler will increase his playing time in the weeks ahead. West Brom will surely want to have his talent available to perform in the Premier League in the shortest time possible.

Joe Rodon (Swansea City)
Joe was involved with the first team squad during pre-season training, getting a good amount of playing time during the U.S. tour. Although not in the first team squad for the season opener and extremely unlikely to be so in the short term, he could possibly a player the manager may consider as the season progresses. Although still eligible for the youth team last season, he was elevated to what was U-21 status during that time. He will now be involved in the new U-23 league and undoubtedly vetted as to how he performs against the first team players of League 1 and 2 sides in the restructured EFL Trophy as well as strong European opposition in the Premier League International Cup fixtures. The production of first team players from their continually improving and now successful development system will be of vital importance for Swansea to continue competing at the highest level. A success for Joe in this regard would please both Swansea and Wales fans with the hope of others to follow.

Harry Wilson and Ben Woodburn (Liverpool)
Harry has been chosen as captain of the U-23 side and had a good pre-season with the team. If he can avoid interruptions to his playing time, it may well prove to be a definitive season for him. The club's management team have a very high regard for his talent and seem intent on pushing him toward first team involvement at some point in the season. To achieve this will not be easy, the senior squad has a large pool of talent already, along with other young players waiting in the wings and so would be an extremely positive progression just to experience any amount of it. One of his most likely competitors could be Ben Woodburn. His exploits during the senior team early pre-season matches earned him well deserved rave reviews. For now the two will be team mates in the U-23 team, for Ben, a strong indication of his footballing prowess as he is still a couple of months away from his 17th birthday.