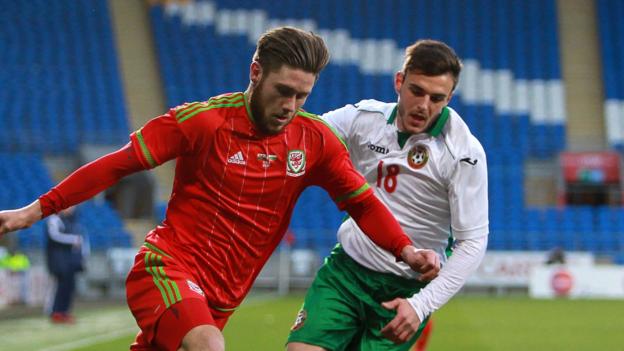 Young Guns.
A preview for the oncoming season.
A personal opinion from John Lloyd Jones.

A big thank you to John Lloyd Jones for the first update of the new season, would also like to thank Owain for his updates over the years.

Further updates when the season starts.



---
As another new season approaches, Welsh football fans will relish the thoughts of further nights of celebration to follow on from what can only be described as a sensational summer. The results, words and videos of Euro 2016 will now be archived but the memories of all concerned with it will both be easily recollected as well as fondly savoured. I think it only correct that I pay tribute to all, the FAW members and staff, the magnificent players and their management team and of course the tremendous horde of euphoric fans who cheered and sang vociferously, behaved impeccably and provided inspiration that the boys on the field so appreciated. Though only able to experience it via picture and sound of the screen, I certainly was with you in spirit as the odyssey unfolded and continued beyond my expectations. Though always proud to be Welsh, there are moments in one's life where it is magnified and over this last month or so is at least equal to those special times experienced in the past. For giving me such pleasurable feelings I equally both thank and salute you all.
                What will be the next chapter in the history of Welsh football? Unfortunately that cannot be answered until the facts have been established and in many ways that is somewhat the great fun of anticipation until the story is known. In the meantime it is conjecture that has to be applied as the use of a very cloudy crystal ball helps me provide a projection of what might be. What is the goal? This is very easily answered as participation in the next major finals on the calendar, the World Cup in Russia in 2018. Can it be achieved? The organization, ability and team spirit are certainly three key ingredients that make it relatively easy to answer the question positively. Will it become a reality? Here, in my opinion, some amount of caution has to be expressed. It definitely will not be easy and in a way a cause for greater celebration if it is attained. There are some potentially difficult opponents to overcome if a successful conclusion to the group stage is to be realized, the added incentive of knocking Wales off their lofty perch giving an added boost to their cause. Even the so called minnows will feel a sense of pride if they can avoid defeat or maybe even a narrow margin one and so will be likely to have extra motivation. Having said all that, I am as optimistic as I generally am at this stage in the proceedings of a favourable outcome. My assessment of what I saw whilst watching the games on my TV screen was that although there were some very good team and individual displays, I don't think that I saw anyone perform beyond their normal capability. I can say this with some amount of credibility as we are fortunate to get very good Premier League coverage at a fair price over here. As a result I have seen quite a bit of the players performing for their respective clubs. Yes, many of the players did perform at near the high end of expectations in some of the matches but a number are still relatively young and can possibly improve further with the continued hard work and dedication that has been the reason for success to this point. We shall have to wait and see what happens along the way.
                Moving on to be more relevant with the title of this piece is a little bit more discussion in regard to the senior team. Though the strength of the squad is adequate at the present time there is a need to supplement it with even better players if possible in the fairly near future. Hence the evaluations that follows below of some of the candidates most prominent in my thoughts, who may be able to provide an added impetus as time marches on. I have little doubt that if there is a need for selection of a squad for the 2018 World Cup finals then there will be a fair number of changes from the one that has competed admirably this summer. 
                I have in past endeavours produced a number of versions of what I have titled "Young Welsh Players" and placed a list in numerical order of how I envisioned their likely success in a football career. In this case I am going to provide a list in alphabetical order as I have to admit a great deal of indecision as to how I would place them in any other order. The qualification for inclusion in the list is eligibility of availability for the under-21 team for the coming season. As the Uefa U-21 championship qualification campaign is now approximately at the halfway stage, all players born on or after 1st January 1994 are included. When the current competition concludes in the summer of 2017, those born on or after 1st January 1996 will be eligible for the next version. Having characterized some of the conditions, it is time to move on to the list.
Wes Burns (Bristol City)
                Wes has been an important member of the under-21 team for a good while and then his inclusion in the training squad for the Euro's shows that he is viewed in high regard by Welsh management. Although he has made numerous appearances for his club, most have been as a substitute and many acknowledged as having made an impact upon introduction. A loan spell at Fleetwood during the second half of the past season was also deemed a success, his eye for goals supplementing apparently some excellent performances. Regular first team football at the minimal requirement of Championship level is needed for him to be considered a viable candidate for senior international football.
The recent loan arrangement between Bristol City and Aberdeen will provide the next chapter in Wes' career and hopefully produce a positive outcome for the benefit of all.
Lee Evans (Wolverhampton Wanderers)
                Lee first impressed as a teenager at Newport County and having successfully made the step from the Conference into the Football League with them was soon signed by Wolves. He quickly progressed into first team at his new club and impressed enough to warrant selection for the Wales senior squad. Having established regular playing time as they regained Championship status the subsequent season found him playing an increasingly sporadic part. It resulted in a six month loan spell at Bradford City at the start of this past season, one that was extended for the remaining part of it. It provided first team football, his contribution important as the team pushed for promotion which eventually stalled in the play-offs.  Although still waiting for a first senior international appearance, he is considered an important member of the under-21 team.
Adam Henley (Blackburn Rovers)
                Adam was thrust into a Blackburn team at a tender age and had somewhat of a baptism of fire. Injuries necessitated his inclusion in a team desperately fighting against what became a failed attempt to stave off relegation from the Premier League. Under the circumstances, to say that he performed very well is possibly an understatement and the fans could at least look forward to a future bright star. Unfortunately, the reason for his original first team call struck him and although he has been a constant member of the match day squads when fit, he has been unavailable on numerous occasions, some of them lengthy spells. This has the effect of disrupting his possible career path and he must be hoping that the future provides no further setbacks. If so, having already done enough to be considered a member of the extended senior international squad, then club and country may well reap the benefit.
Declan John (Cardiff City)
                 After a very successful schoolboy international and youth career, Declan's next step was involvement in Premier league football as Cardiff had regained the top league status after an absence lasting almost 60 years. Although previously involved in midfield, his prerequisite for the Cardiff first team was as a wing-back and he certainly did not look out of place with some encouraging displays, involvement in the Wales senior squad and a couple of appearances at that level. As with most newly promoted teams, it was a season resulting in being involved at the lower positions of the league table and ultimately in a relegation spot at seasons' end. Club and player fortunes mirrored one another as a much sought return to that high level of performance could not be achieved. As the club brought in new managers and players in a bid for promotion, Declans' contribution to the cause dropped from minimal to none. Loan periods gave him some amount of first team football at League One level and hopefully by this means or through a return to be an integral part of the Cardiff squad, he can again move his career in the positive direction his ability has suggested.
Tom Lawerence (Leicester City)
                Even in his days as a schoolboy footballer, Tom has had a career beset by various injuries which I am sure has proved frustrating at times. This seems to have in part impeded his progress as the lack of continuity has possibly stopped indications of moving into a next level of performance. A player of undoubted quality as his length of tenure at Manchester United seems to suggest, his transfer to Leicester at the start of last season provided a new chapter in his life. The fairytale story with an incredibly happy ending as his new club unlocked the magic formula that every Premier team strives to do, found him only on the very fringe of a consistent and relatively injury free squad. As in previous times his services were highly sought through the loan system. This has given him an avenue to first team football and the obvious success of these appearances saw him progress to become part of the Welsh senior squad. Again injury intervened robbing him of possible inclusion in the 23 who were selected for the trip to France.
Tom Lockyer (Bristol Rovers)
                Tom has certainly made a favourable impression up to this point in his career and it is expected to continue long into the future. His good displays for his club youth team saw him gain occasional appearances in the first team and then an easy transition into that level of play thereafter. Since that time he has been a regular and important member of the team as they quickly regained their lost league status culminating in a successful promotion campaign this past season. A strong defender, who has also shown the versatility to perform in midfield if required. In some ways it has maybe been slightly surprising that a transfer into a higher level of football has not already occurred, but management and fans are surely delighted to have thus far retained his services as the club now move into League One competition. This will be Tom's first taste of football at this level and older fans in particular will wish that he can help a further climb up the league ladder and back into the level of play they were past combatants in.
Regan Poole (Manchester United)
                His prior club, Newport County, introduced Regan to the rigours of first team football as a 16 year old and he re-payed their management team with competent, assured play. Some performances were followed with accolades, consequently alerting a keen interest from bigger clubs. Manchester United emerged from the string of suitors to acquire his services at the end of the 2015 summer transfer window. Though a strange set of circumstances prevented him from participating in any official matches for a number of months, he still impressed enough to be continually involved in first team training sessions at his new club. Though his only first team involvement was a very few minutes in a Europa league match in early 2016, he continued to gain praise for important contributions at under-21 level football. A change of management at the club for the forthcoming season leaves things a little clouded, as the remit will be for a balance of addressing immediate needs as well as future fortunes in the need for a return to a strong challenging position at the pinnacle of the Premier League as well as European glories. Regan is one of a number of young players of good promise who will be entwined in decisions needed to satisfy fortunate fans with fond memories of recent past achievements.
Tyler Roberts (West Bromwich Albion)
                In their final match of this past season, the club gave Tyler his first team debut as he entered the game for the final 20 minutes or so as a substitute. Though there may not have been the highest level of intensity, to appear in a Premier League match in the first year of being involved in the ranks of fulltime football and only a year after leaving school is quite an achievement. Though the name may well have been new to many football followers, it came as little surprise to some fans of his club or many Welsh fans. Though only through an invitation to participate in training sessions, he has already had involvement with the Wales senior squad, a sure sign of the high regard the management team must have of him. He started his tenure with the Wales schoolboy teams at a very young age and excelled at every stage, so in some ways it could be said to be par for the course for him to match expectations so soon in his career. Many more fierce challenges lay ahead, but the track record so far suggest that these will be overcome, with the exciting possibility that he can find his name amongst those selected for the Wales senior squad sooner rather than later in what one hopes will be a fine career.               
George Williams (Fulham)
                Although having already stated the uncertainty that caused me to refrain from a numerical list, I also have to admit that though not by an obvious margin, George would have been the most likely choice to be at the top of the list. He has already provided some exiting glimpses of his talent for the fans of the Wales senior team but untimely and lengthy injuries have interrupted his progress at times. His inclusion in the final Euro squad was well merited even though injuries and form were also a key determinant in the composition. It is certainly hoped that along with others he can have sustained periods of first team football in order to at minimum continue, or even improve the depth of strength the senior squad now possesses.
Harry Wilson (Liverpool)
                Although that up to this point Harry cannot be considered to have been anywhere close to making a first team appearance for his club, he already has possession of a Wales senior cap along with the distinction of having been awarded it a younger age than anyone else. A mixture of necessity and protectionism was the reasoning for it occurring in that fashion, however, the supposition at the time was that many more would follow at further points in his career. This will hopefully be so, speed and trickery are some of his main assets but more importantly he has an eye for goal with fairly regular frequency, some quite spectacular ones on occasion. A loan period last season gave the experience of a few first team games at League One level and most probably this is the sort of avenue likely to enhance his experience in the near future. His schoolboy and then at the time youth career signified him as an exciting prospect, worthy of some consideration for the senior squad, the unavailability of some players accelerating that process. Injuries have tended to impede what may have been optimistically projected but by the same token there is no reason to doubt that such heights cannot be reached over time as he is still very much in the infancy of his career. A regular scorer is coveted by every club and country, if at all possible sooner rather than later, but whenever it may be, it is a valuable component of the search for team success.
                There are some other names that could have been added, 2 or 3 in particular were viable candidates and anyone familiar with the under-21 squad will easily guess who they might be or even have legitimate argument to question what is proposed above. Inevitably, the new season will bring some clarity, not necessarily all positive and by its halfway point and later some amount of reasoning to change what is written here. As it turns out, by coincidence as much as anything else, it is a tidy number of 10 names. Along with a couple of others slightly too old to qualify for inclusion, these are the ones most likely to be supplementing the present senior squad in the near future. All but 2 have already had various amounts of association in that regard and I anticipate that those 2 will do so quite soon as well. A common theme for all of them is the need to progress to play regular first team football at as high a level as they can achieve. It is not my intention to belittle what they have done up to the present, they are in fact to be congratulated for all their achievements. They have far outstripped a great many of their peers in the various categories they have progressed through and are in many ways living the dreams of young boys who kick the ball in various playgrounds hoping that their talents are such that they can be exalted by fans when they get older. Here though the criteria by which they are judged is an ability to perform at a minimum of adequately at senior international level. It is very difficult for a player to do so without having the ongoing experience of good quality Championship football or better. Hopefully as we look forward to it, all these young men will continue to gain the necessary experience during the forthcoming season as well as being challenged by others who will put themselves in contention for such consideration. This is the only way the Wales senior squad can maintain the high standard opponents will now be expecting to compete against, thus placing a high burden upon its members to replicate the sort of success indicated a possibility through recent achievements.
Ben Woodburn (Liverpool)
                This article was composed prior to the start of pre-season training and held for publication at this time. However, it would somewhat negligent if I didn't acknowledge recent developments. Ben is certainly someone who has caught the attention of many Welsh followers          in the past couple of weeks or so. He certainly caught my eye when seeing some video of him during the Wales U-17 internationals last season. I had also seen that he was an integral part of Liverpool's youth team, another impressive feat for a first year scholar. This was all within his peer group but did seem to bode well for the future. This thought has certainly been re-enforced with his accomplishments during Liverpool's early pre-season matches. He is young and so some amount of caution needs to be exercised in his development path and I am certain that his club will guide him wisely as they have done with many others in the past. I will leave it at that with the added comment that I am sure there will be plenty of mention of him in the weekly young guns articles that will be penned throughout the 2016/17 season.