YOUNG GUNS BLOG UPDATE
Young Guns Blog by John Jones.

Daniel Barden (Norwich City)
Daniel has represented Wales as both a schoolboy and U-17 international and was an Arsenal player at that time. He signed for the club as a scholar in 2017, making a half dozen appearances for their U-18 team last season. He continued in that status this season, but with Arsenal having a large contingent of young goalkeepers, Daniel has been allowed to move on. Norwich were seemingly delighted to discover his availability and have co-opted him into their U-18. He has been the regular choice goalkeeper for the team since the start of the year and will be hoping that as his time as a youth player comes to an end this season, an offer of a professional contract to remain at the club will be made.

Bradley Gibbings, William Rickard and Jake Thomas (Swansea City)
Bradley and William played for the Wales U-17 team earlier in the season, a continuation of their national representative careers having previously done so as schoolboys as well. They along with Jake were amongst the intake of new scholars at the Liberty Stadium at the start of this season. As the season has progressed, they have been involved in games the Swansea U-18 team has played, all three having made appearances in around half of those competed. It would be expected for them to have an even more prominent role as team members during the next season, especially if they are to establish themselves for a continuing career in full time football.

Jack Madelin (Wimbledon)
A constant member of the Wales schoolboy and U-17 teams during the past couple of seasons, Jack is presently mostly involved with the Wimbledon U-18 team, but has at times been included in the clubís U-23 squad for their games as well. Certainly, a good achievement for a player celebrating his 17th birthday this month, his aim will be to continue gaining as much experience playing U-23 football in as quick a time frame as possible, this making a probability of consideration for first team football involvement a more likely event.

Ben Margetson and Sam Parsons (Cardiff City)
Two players who have been involved with the Cardiff U-18 team this season and both have played in more than half of their games. Sam is a first year scholar at the club and will surely be an important part of the U-18 squad next season. Ben is in the second year of his scholarship and so his time in youth football will end in the coming weeks. He has played a half dozen games for the U-23 team recently as the club assess the feasibility of him being successful at that level. There is quite a large group of players who have done well in the youth team but are now completing their time at that level. A club decision to retain their services will be needed for them to continue employment at Cardiff beyond this season.

Lewis Reed (Ipswich Town)
A first year scholar at Portman Road, Lewis has been restricted to just 1 appearance for the clubís U-18 team this season along with some game occasions when he has spent time on the bench. The Ipswich U-18 team has had a very successful season having already secured a place in the top two in the south division and are quite likely to become champions. With quite a few regular members of the team completing their time in the youth programme at the end of the season, Lewis will be hoping to feature more prominently for the team next season, as he embarks on his second year of full time football. He is the grandson of Billy Reed, a player who represented the Wales senior team a couple of times in the fifties.

Callum Watts (Southampton)
Recently called up from the standby list to join up with the national U-19 squad, Callum continued the progression of representing Wales having already done so as both a schoolboy and U-17 international. A first year scholar, he has been increasingly involved in U-18 games during the second half of the season after being used on only a few occasions in the early months. With another season remaining in his eligibility, he will hope to build on the experience gained in this one in order to become a more regular member of the team. This would also aid his cause toward further participation in games played by the Wales national teams. He will, I am sure, be working hard to find improvements in his game, making those possibilities a more likely event.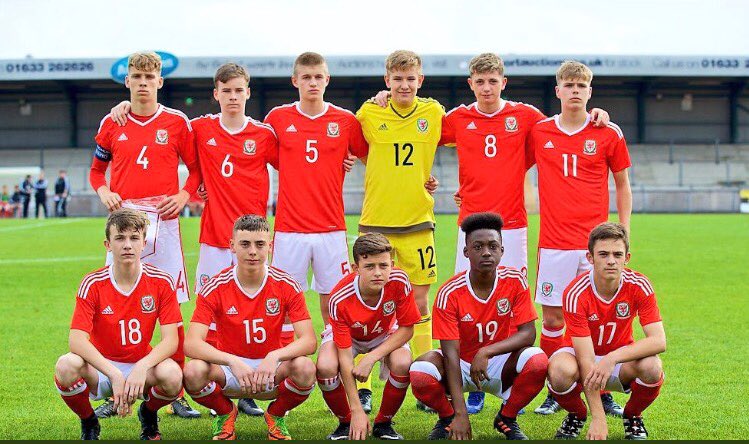 Lucky Admiral - huge collection of mobile casino games - https://www.luckyadmiral.com/

Get your £2 no deposit free bet! - https://betfreebets.uk
Posted: Wednesday 17th April 2019