And the link and alt tag for the image are: betting sites



Young Guns update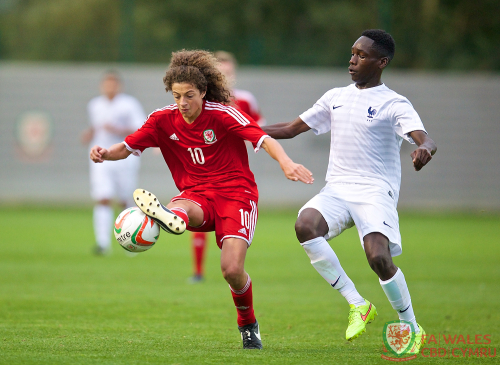 Young Guns by John Jones.

Ethan Ampadu and Max Smallcombe (Exeter City)

There is not a great deal that can be added about Ethan to enhance what has already been spoken and written about him. His early season exploits brought him to the notice of almost all that have any interest in football. Sparingly used by Exeter after those man of the match performances, it was probably a wise choice rather than over expose him at such a young age. He may also face an extended season as he will likely be selected for the Toulon tournament. Congratulations are in order for Max as he has secured a professional contract at the club. After a lone appearance in the EFL Trophy in which he performed satisfactorily, Max continued his tenure as a scholar captaining the U-18 side during which time considerable success was achieved. He also had some involvement in the U-23 team during the season. It proved to be a personal success for him with the offer of full time terms and the expectation that he will be posing a strong challenge for first team game time next season.

Cole Da Silva (Chelsea)
Last week, Cole was a member of the victorious Chelsea team that contested the FA Youth Cup final second leg game. With the first leg having ended 1-1 the previous week, it seemed as though it was going to be quite a tussle. Chelsea however, produced a dominating display and ended up convincing winners with a 5-1 result. Cole was introduced as a late substitute, but still managed to get himself on the scoresheet by putting the ball in the net to score the final goal of the game. His time as a scholar at Chelsea is now about to come to an end as he celebrates his 18th birthday this month. With their practice of having a very large and talented youth squad for the last few seasons, Cole has found himself facing a very competitive environment to get playing time. It may well be that he will be offered a professional contract as again Chelsea are usually reluctant to release players who have impressed and so usually have a large pool of players that they organize loan periods for, as well as having a sizeable U-23 squad. All should become clearer in the next few weeks and we certainly wish Cole all the very best for whatever is to unfold in his future.

Mark Harris (Cardiff City)
After the introduction to first team football with his FA Cup substitute appearance in January, Mark was included in the Cardiff starting line-up for the recent game against Wigan in the Championship. As it turned out, it was not a very good team performance and so rather unfortunately far from an ideal game for him to be involved in. He did not make the matchday squad for the subsequent game against Newcastle and so he will hopefully be given another chance in the upcoming final match of the season at the weekend. There is no doubt that management at the club are impressed with the progress he has made this season and will give him that opportunity if it is deemed appropriate. There will be some amount of reconfiguration of the first team squad during the summer months as Cardiff along with all other Championship teams will be striving to construct a squad that can contend for promotion next season. It is hoped that Mark and other Cardiff youngsters can impress enough during pre-season to warrant at the least some amount of first team consideration. There can be little argument that for any continuing success, a club must be able to supplement whatever experienced player purchases they can afford with a steady supply of homegrown talent. Cardiff have quite a good record in this regard and have certainly benefitted financially at times as the best have moved on. Hopefully they can continue this trend and under ideal circumstances have them remain at the club and assist in gaining promotion. From our point of view, we will hope that along with that scenario, the young players will also be Welsh qualified although accepting that this is not always as easily accomplished as our imagination tends to favour.

Matthew Smith (Manchester City)
In contrast to Cole's situation, Matt was in the Manchester City team that was on the receiving end of that 5-1 defeat in the second leg FA Youth Cup final. It is a recurring theme of late, Chelsea having completed their 4th consecutive triumph in the competition and Matt and this year's City team mates having a taste of what happened in the two previous seasons for the Etihad youth teams. Even so, it can be considered a very good season for Matt as he established himself as a regular starter in a team with a large and talented squad. He does continue to have youth team eligibility next season and will be hoping for another appearance in a Youth Cup final and a winner's medal at the conclusion of the competition. Even though it was Matt's first season as a scholar, not only did he do well enough in the youth team, but he was also given some game time in the U-23 team during the second half of the season, so he is following in the fashion of some other recent members of the Wales schoolboy teams in making rapid progress at an early age. Another feather in his cap is his apparent versatility. Predominantly used as a defensive midfielder, he has at times been thrust into more of an attacking role in that area along with an occasional appearance in a full back role in which he shown more than an adequate adeptness in capability. It looks as though he is very much one to watch for next season.

My apologies that this week's version has been constructed in a rather rushed mode and maybe if I could have afforded more time to devote to it, what I had to say might have been presented in in a more pleasing reading format. Also, I anticipate at least one more young guns offering, but have to mention that it might be a couple of weeks or longer before I have it available for you. I have other matters that require my attention at the moment and cannot predict how much time I will have to assimilate and present the information in the next two weeks.


Comments (0)
Posted: Friday 5th May 2017