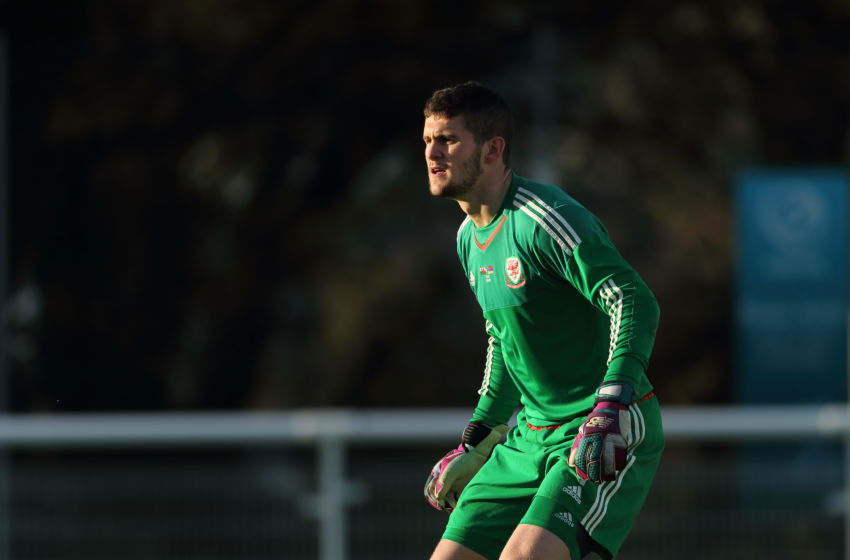 Young Guns by John Jones.

Michael Crowe (Ipswich) and Billy O'Brien (Manchester City)
I have paired Michael and Billy together in the same way as they have been in the Wales U-21 squads over the last couple seasons during the recently completed qualifying campaign. Both performed admirably throughout as the team put up a reasonable but ultimately unsuccessful attempt at reaching the finals of the competition. Though both are regarded as being very good young goalkeepers, neither has made any first team appearances excepting those made on loan in non-league football. Such is the lot of most young keepers as they work to gain experience and the needed confidence to operate in the higher levels of the game. If they eventually succeed, they can at least have the comfort of knowing that careers could extend well beyond the age of an outfield player. Michael has certainly been on the bench for the Ipswich first team on a number of occasions and so there is confidence that he could cope if called upon. Recent news that he suffered an injury which will keep him sidelined for about 3 months is obviously a temporary setback and hopefully he will have a full and as speedy as possible recovery. Billy is at a club who not only have an extensive and talented squad for the first team, but also at development and academy levels as well and so shares duties with other strong contenders for a starting spot in the U-23 team. If they can continue the good progress they have achieved so far, it will give Wales another couple of options in a position that has almost always been served well in the senior side by very competent players.

Rabbi Matondo (Manchester City)
Rabbi was at the Cardiff City academy for a number of years but was lured by the prospect of eventual Premier League football, signing scholar terms with Manchester City when he became old enough to decide his future in fulltime football. It may be an event that Cardiff will rue and those at the Etihad celebrate as time unfolds. Of course, there are a great many more disappointments as opposed to otherwise when such forecasts are pronounced, but Rabbi has shown all the credentials that have exited quite a few good judges of talent. He was an integral member of the successful Wales schoolboy team last season and had even been a part of the original training squad the prior year, also catching the eye when representing Wales at U-17 level. At the moment, I believe he plays for the City U-16 team, who are often challenged by strong opposition and we shall have to wait and see what the future brings.

Eli Phipps (Cardiff City)
Even for many who consider themselves avid followers of Welsh international football at all levels, Eli is quite possibly one that flies under the radar of their notice. Now in his second season as a full time professional, there has been little fanfare about him as he has negotiated his way in the full time ranks. There has however been one constant statistic during his time as a scholar and now in the next phase of his career, his name appears consistently on the scoresheet in the games in which he plays. There will most certainly be stiffer tests ahead in order for him to continue to earn a living in his chosen profession, but if he can continue his strike rate as he meets these challenges, he will have an opportunity to collect a regular paycheck. It may well be a career that slowly but surely keeps building in its reputation and if it were to peak with him wearing the national team shirt, there would be a multitude of countrymen cheering wildly each time he would place the ball in the opposition net.

Matthew Smith (Manchester City)
Another of the group of 1999 birth year young men who have many people thinking that a good number of them will form the core of the Wales senior side in years to come. Considering what some of them have achieved so early in their careers this is certainly a sentiment that I can subscribe my vote with positive support to at this point in time. A caution that I would however add is that if such assumptions were easy to make, Wales would have had a number of more influential players than has actually been the case over the last many years. Matt can be considered another who has potential to amongst the brightest lights in his peer group. Only a few weeks into his life as a fulltime footballer having moved from schoolboy to scholar terms with the club in the summer, he is already getting starting assignments with the U-18 team, no mean feat with reference to comments earlier in the piece.

Alex Samuel (Swansea City)
Yet another who could be one flying under the radar of many Welsh supporters, Alex is one of those very occasional products of the Welsh Premier league that come along. He made a big impression at Aberystwyth as a 16 year old with and against mostly seasoned campaigners at that level of football and obviously came under the spotlight. Swansea quickly acquired his signature to scholar terms and incorporated him into their youth team. Progressing on to the development team when signing a fulltime contract, he played in the Scottish Championship last season when loaned out to Greenock Morton. He made enough of an impression with them to secure playing time in well over half the games played during his time there. Though the majority of them were as a substitute, he must have been considered good value as an impact player. This season has seen him remain at Swansea and has been heavily involved with the U-23 team. It may be that he is still some way from being considered for first team involvement at the club, but he is making steady improvement and is challenged by stiff competition for game time in a team that is regarded as quite good in their competitive environment.