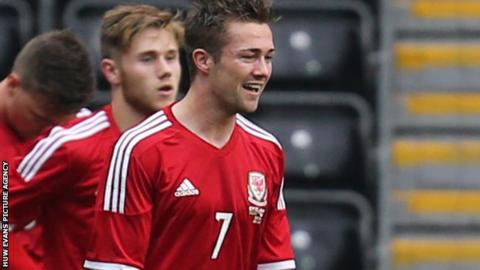 Young Guns by John Jones.

A continuation from last week's effort

Andrew Hughes and Gwion Edwards (Peterborough United)
Andrew broke into his hometown team at Newport as a teenager and soon became an almost automatic member of the team. This continued through his 5 seasons there excepting a long absence as the result of a serious injury. He eventually returned to play in the second half of last season as his contract ran out. He joined United in the summer, thus playing one division higher than previously done so. He seems to have adapted to the task seamlessly as his regular appearances in the side indicate. Gwion was another summer recruit by the 'boro in their aim to strengthen the team. After a number of season at Swansea, where he eventually was named in the matchday squad a few times but did not get off the bench on any occasion, he moved on to Crawley where he augmented some excellent displays with the contribution of occasional goals during his 2 seasons there. This made him a coveted target for the management team at London Road, a move that seems to be paying dividend for all concerned.

Lloyd Isgrove (Southampton)
A player who has been very much part of the Saints extended first team squad for some time but has been limited to only occasional appearances as the St. Mary's management team has continued to supplement the squad with some very talented captures when replacement players have been necessary. Even though fairly rare, he has gained the attention of Saints fans when playing and is seemingly something of a fan favourite. Lloyd has gained a good amount of first team experience through the loan system and has performed well when doing so. This was certainly the case when assisting Barnsley attain promotion from League 1 last season where he managed 2 more successful Wembley visits to add to 1 he already experienced as a Peterboro' player some seasons back. With European commitments adding to their fixture schedule, he has remained with the club to this point this season and it may be the case for the remainder.

Lee Lucas (Motherwell)
I have already given Lee a well deserved mention a few weeks ago and so will not repeat that part. Just the addition that he seems to have consolidated his place in the first team squad with some amount of playing time and this will hopefully increase further in the months ahead.

Jon Meades (AFC Wimbledon)
Jon has finally had the chance to play regular first team football as he almost appeared in the full compliment of matches for the club last season and the trend has continued for this one. He was at Cardiff for a number of years, eventually gaining a full time contract and was loaned to Wimbledon at that time. He moved on to Bournemouth and then Oxford, but was the victim of injuries at very inopportune times which limited his playing time quite drastically over a 3 season period. His return to Wimbledon seems to have coincided with much better luck on this front and hopefully it will continue for him.

Liam O'Neil (Chesterfield)
West Brom signed Liam from non league football when he was a teenager and he made a handful of appearances during his 4 seasons there as a testimony of good adaptation to full time football. A loan spell at Scunthorpe was also deemed a success with good performances being noted in around the couple of dozen games that he participated in whilst at Glanford Park. This tempted Chesterfield to negotiate his transfer in order to strengthen the side. In his second season there, he has proved to be a good return on investment although injuries have restricted part of his availability.

Joe Walsh (Milton Keynes Dons)
The recent call into the senior squad as an injury replacement for Joe, shows what could be possible for these young men that I have given the spotlight to over the last couple of versions. I think in Joe's case it is deserved that he is on the periphery of the squad as he has generally caught the eye for a few seasons. As a youngster with Swansea he signed a pro contract upon the completion of his youth tenure and he made 2 first team appearances in the League Cup for them before his subsequent release after another couple of seasons there. He was soon snapped up by Crawley and immediately became a regular member of their League 1 team. With a number of clubs assessing his performances, it was MK Dons who lured him away. Initially on loan, agreeing a fee for his permanent transfer at the end of his third season at Crawley, he helped his new team gain promotion to the Championship. At this higher level, it was a tough season that eventually ended with relegation but Joe even though occasionally hampered by injuries was regarded to have fared well in that environment gaining some very positive reviews.

This concludes my review of what I shall term the older young guns.